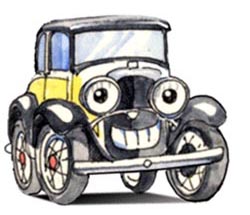 Hi, Iím Topper!
My favorite thing to do is to take all my friends for a ride: Stevely the Worm, Pigaroo, Dot, Dash, and Bang, Bunny and Squirrel, the boys and girls from Stories & Songs, and Riddles & Rhymes. But even when they are all busy with other things, it makes me happy to putt-putt up and down the paths in Punctuation Park and try to make it to the top of the highest hills. So far I havenít made it to the top of any of the hills surrounding Punctuation Park, but I keep trying. Come back in a few weeks to see if I have made it!

In the meantime, visit all my friends and see what theyíre doing. There are Puzzles & Games, Coloring Pages, and lots of other things to do at Kidsí Korner too.

And you can send me e-mail and say hi!